Private Family Tour with small children
We know that traveling with small children may need some improvising and not always everything is going as planned. We propose private family tours and adapt at the ages of your children. We can stop whenever we want for pipi, diapers, an ice cream or even some playing time in the park without feeling uncomfortable holdingup the rest of the group!!
We still see all the ancient sights and more. We just do it a the pace convenient for you.
This private tour is bookable as a package price, and not per person, for families with children till 9 years old who do not ride their own bike.
Price 140 euro and you can choose the departure time at your liking. Just send an e-mail to reservations@webikeathens.gr and we can arrange it for you.
For families with older children who also want to go private, just send us an e-mail to reservations@webikeathens.gr, and we will send you a package offer for your family.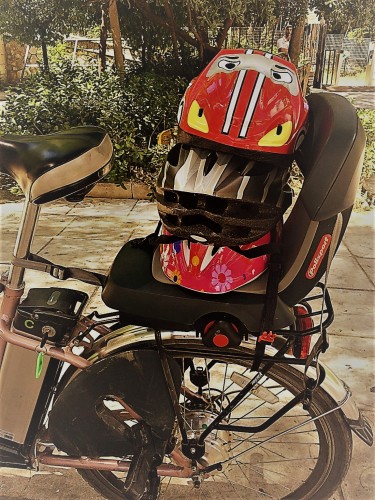 Teambuilding Corporate Event or an original "Gettogether"
Seeking for an original way for your party, a teambuilding or just a gettogether event you have to plan, this biking tour is really it! Interactive gameplaying while enjoying the sites of Athens city center ancient and modern.
We have the experience in such events and together we can make sure you will have an original and unforgettable day. The people will interact and have a relaxing few hours on the e-bike. As the bikes are electric you do not have to worrie about the different levels of fitness. We can add a treasure hunt an pick nick or some greek mezes in a nice taverna. Just send us your request to natalie@webikeathens.gr with the date you have in mind and the size of the group and we will send you ideas and a price for your event.